Easter Bunny Basket Card
Membership on Emerald Activities is free for everyone. It includes a personal gallery to store your creations, the ability to create an avatar and make assets, and of course the chance to earn emeralds and unlock new pieces!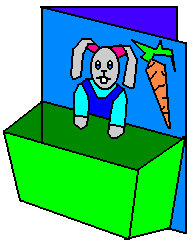 Materials
Strawberry Basket (or small cardboard box)
Bunny Pattern (printed out on white paper)
Construction Paper
Glue
Crayons or Felt pens
Scissors
Shredded Paper or Excelsier
Chocolate Eggs (optional)
Instructions
1. This card is a simple little craft that looks very cute when finished. The first thing you need to do is fold a sheet of coloured construction paper in half to form a card.
2. Glue the basket to the front of the card as shown in the picture.
3. Print, colour, and cut out the bunny. (You may also draw your own bunny or chick.)
4. Glue the bunny to the card so that his paws over-lap the basket.
5. Write your message inside, and fill the basket with excelsier. Top it with a few chocolate eggs or other goodies.